When we talk about luxury watches, we're refer to a market that never ceases to be a great success. This, without a doubt, also derives from the large number of luxury watch brands on the market, which – thanks to years of experience and continuous improvements – are able to offer users cutting-edge products that respond, in full, to customer needs.
Indeed, thinking about the kind of products luxury watches are, they represent real accessories that – precisely because of their characteristics – must be combined with the style and clothing of the wearer.
It is not by chance that the best watch brands strive to develop models that are perfectly in line with the trends of the moment and that lend themselves, in full, to the desire of the wearer.
Thanks to these devices, numerous new manufacturers have specialized in producing these fantastic accessories over the years, approaching those that have always been considered the best luxury watch brands.
How to evaluate a good model
Nevertheless, the most common doubt among lovers of these products is how to evaluate a good model.
Indeed, the parameters for determining whether or not a product is suitable for your needs are many, and are all to be taken into consideration.
First of all there is, of course, an assessment based on the brand. Indeed, as aforementioned, the best luxury watch brands are committed – every day – to bring to market the most performing and aesthetically pleasing models.
Other important assessments, however, are based on the origin and nationality of these models.
Indeed, they vary a lot from one another and can be subject to the different preferences of the person. There are those who prefer, for example, luxury Italian or Swiss timepieces , as the differences are particularly evident among the various styles.
Last but not least, price also plays a very important role. Indeed, each individual evaluates their purchase based on what the cost of the product is , and its economic possibilities.
Precisely for this reason, there are those who can easily evaluate expensive watch brands and those who, on the contrary, prefer to opt for cheaper products.
The best 50 luxury watches brands
In any case, beyond any possible parameter and evaluation, there are some brands that – more than others – represent a guarantee of quality and efficiency.
In this regard, we have prepared a ranking of the most famous luxury watch brands, containing the 50 best manufacturers in the world.
Patek Philippe
Patek Philippe ranks in the Olympus of the best luxury watch brands as well, with models that display very specific characteristics.
Specifically, they adhere to a classic and well-kept style, often accompanied by strong colors that guarantee a certain impression in all circumstances.
In particular, we would highlight the 5316P-001 of the Grandi Complicazioni collection, one of the most representative of the company.
It is, in fact, made of 18-karat yellow gold with a black, squared alligator leather strap that undoubtedly provides an extra touch.
The glass is made in pure scratch-resistant sapphire, as is the case back.
Audemars Piguet
Audemars Piguet is one of the most iconic and representative brands for luxury watches of a certain caliber and thickness.
Just the same, the company deals with both men's and women's watches, although the latter represent a real strength of the brand. They are characterized by a sweet and delicate style that adapts perfectly to the wearer's very soul and feminine characteristics.
Among the best women's models, therefore, we would note the Royal Oak , made in 18-karat yellow gold and with an incredibly meticulous attention to detail.
The style, as mentioned, is very delicate; indeed, the small, round case fits perfectly with the design of this fantastic model.
Vacheron Constantin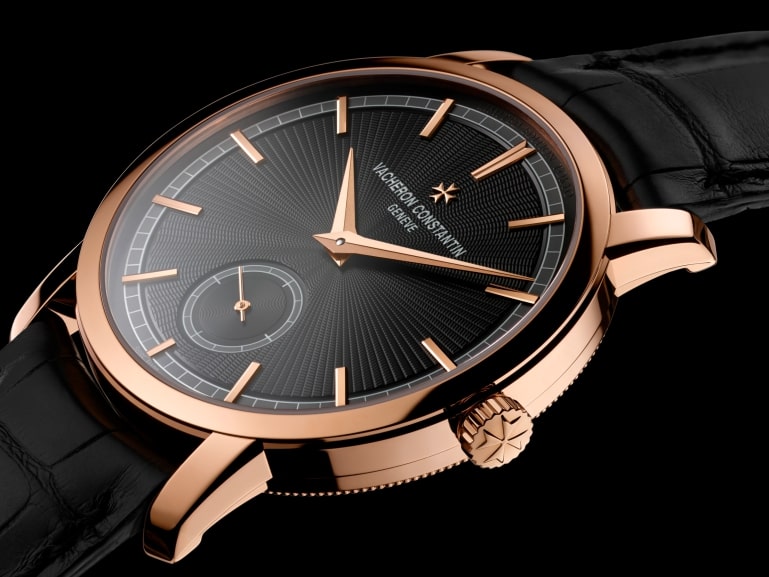 When it comes to the watchmaking sector, Vacheron Constantin is undoubtedly one of the most prestigious and admired brands. Founded in 1755, it was handed down through the original family for a long time, up until its acquisition by Richemont in 1996. It is one of the oldest producers of watches to date.
These watch models are intended mainly for elegant and refined gentlemen, but with models that are also interesting for the fairer sex, its price ranges sit on the medium-high part of the spectrum.
Among its countless collections we can distinguish: Patrimony models, with an oval case and classic style; Traditionnelle , which follows the tradition of the brand through the most sophisticated complications; Harmony , with an oval dial but a semi-square case; Malte , with the most complicated mechanisms, boasting harmonious and linear forms; Quai de I'Ile watches,which can be customized according to customer needs; and other collections such as Overseas and its more modern, sporty style, or Historiques , whose watches are reinterpretations of models of the past.
Vacheron Constantin models represent today's most complicated watch designs. Maintaining a strong tradition since its inception has made it very popular with collectors.
Rolex
Rolex is perhaps one of the most famous luxury watch brands in the world, as well as being one of the most reliable and quality-assured.
The wide range of models offered is designed to be perfectly adaptable to a classic and ambitious style, which can only benefit if accompanied by these splendid wrist chronographs.
Among the different models, we must point out the Rolex Day-Date , made of very precious platinum or 18-karat gold. Its absolutely impeccable design pays attention to even the smallest details.
This model is indicated, in an especial way, for strong personalities – those with a desire to be noticed at every opportunity – given that it is impossible to ignore.
Omega
Omega is undoubtedly one of the best luxury watch brands, with a history and level of experience that leaves the brand nothing to envy in other manufacturers.
Indeed, the company has about 160 years of history, and over time succeeded in establishing itself in this sector as one of the most convincing and avant-garde brands.
The strength of this brand lies not only in the exceptional quality of its products, but also in the revaluation and use of new materials.
From alloys, to the most precious gold, and even to ceramics, its materials are used in an exceptional and impeccable way, resulting in the realization of models always appreciated by millions of consumers all over the world.
Among the flagship models of this company we would point out, without a doubt, the Omega Co-Axial Moonwatch , made of gray ceramic on a black leather strap. This unforgettable watch manages to combine a classic style with more sporty and avant-garde sensibilities in a perfect union.
Ulysse Nardin
Ulysse Nardin has a long history that begins in 1846 in Switzerland, by the hand of Ulysse Nardin who, at the age of only 23, founded the company of the same name.
This brand over time, especially recently, has begun to be considered in a very positive light, due to its countless innovations in the field of mechanical movements with complications of all kinds such as the position of the sun, the phases of the moon, sunrise, moon and stars, twilight, rising and setting of the sun and moon.
The brand has always been characterized by its proximity to the nautical world thanks to its chronographs. Despite this, the brand over time has expanded its catalog by offering watches for every need.
Among the most important collections are Classic with a classic and sober style, Diver for lovers of diving watches, Executive for those looking for a fine watch to combine with a professional environment, Freak if you are looking for a watch with a particular and antimagnetic design, and Marine if you are a lover of the sea.
IWC
IWC is a candidate as one of the top luxury watch brands thanks to the incredible features of its products.
Indeed, it models exude a classic style that leaves nothing to chance, and an easily-recognizable beauty that has always been synonymous with great class and charm.
One of the top models is, without a doubt, the Moon Phase 36 of the new Da Vinci collection. This fantastic wristwatch, is in fact made in 18-karat red gold, with a precious bronze-colored alligator leather strap.
The case is round and includes small details, such as the motif inspired by celestial bodies – which can only confirm what is said about this model.
Breitling
One of the best brands is Breitling, one of the landmark companies for sports watches.
Indeed, the style adopted by its models is much less classic than other brands. On the contrary, it offers much more advanced solutions suited for lovers of physical activity and extreme sports.
Among the best-selling models, the Sky Racer is undoubtedly the most loved, courtesy of its incredible technical characteristics combined with a very dynamic and youthful style.
It is designed to be as enterprising as possible, featuring a truly admirable and careful attention to detail .
Panerai
Panerai has for years been synonymous with quality and efficiency when it comes to famous watch brands.Indeed, its models are made in a classic and harmonious style that has always distinguished this famous brand.
Wrist chronographs are a real specialty of the house; these products are always in step with the times, leaving nothing to be desired.
Among the most interesting models, we cannot fail to mention the Luminor Base in particular, made entirely of satin-finish steel with scratch-resistant glass in the purest sapphire.
The dial is black with Arabic numerals and luminous hour markers , making for an impeccable style that is recognizable in all circumstances.
Zenith
With Zenith , luxury and class come together in a perfect union that is fully expressed in every model presented.
Indeed, thanks to a sumptuous but never boring style, these wristwatches fully represent the personality of those who have nothing to ask for. They absolutely demonstrate their certain charm in a predominant and established way .
Among the best of these watches, particular attention must be paid, without a doubt, to the El Primero model : Chronomaster , marked by truly exceptional attention to detail and a design that adapts to any specific kind of style.
Recommended for both important occasions and everyday life.
Jaeger-LeCoultre
With Jaeger-LeCoultre , you reach the peak of beauty and attention to detail. Indeed, its models are uniquely refined, with an almost maniacal realization and accurate in every detail.
The classic style of these timepieces, combined with their exceptional quality, has made Jaeger-LeColture one of the best luxury watch brands ever.
The variety of models is quite vast, allowing you to select some particularly pleasant and high-performance ones. Among these, one of the best is, without a doubt, the harmoniously designed Reverso Classic, characterized by a very large dial, the presence of small gems, and a smaller dial for the seconds.
Richard Mille
In recent years, this brand, despite not having a great history behind it, is literally depopulating. Nevertheless, it is now a daily habit to see a Richard Mille on the wrist of some famous person in plain sight.
This is the result of an excellent marketing program but also of special features that distinguish these watches, in many cases produced in limited editions.
Their distinctive tonneau case design and the innovative materials used, such as silicon, have immediately attracted attention to this brand, making it one of the most interesting brands among expensive watches today.
The prices are very high, starting from figures over 50,000 dollars, up to the most expensive ones such as the RM 27-03 Rafael Nadal model, with a cost of around 635,000 dollars.
Hublot
Hublot is also one of the top luxury watch brands, offering a variety of very, very large models.
The class and quality of these watches is absolutely remarkable, and makes it possible to opt for products that fully reflect one's style and personality.
Specifically, the choice of materials and the care taken in the realization of its products allowed Hubolt to establish itself as one of the most concrete, important, and significant companies of the modern day.
Furthermore, the company can count on highly respected partnerships like the one it has with Ferrari, which has resulted in one of the brand's most important collections: the Big Bang Unico Ferrari .
In particular, the model to be mentioned is, without a doubt, the Ferrari Unico King Gold , an absolutely superlative product with a very decisive style, which highlights all its qualities in an explosion of design and attention to detail.
Tag Heuer
Tag Heuer is a candidate by right, among the most well-known luxury watch brands of all, as well as one of the best.
Indeed, a very classic style and an incredible care and attention to every detail are seen in every collection it offers.
Tag Heuer products are of a superfine and delicate quality, designed and manufactured to be suitable for any type of user.
Among the most convincing aspects of this company are the hundreds of collaborations and partnerships that it has undertaken over the years. Indeed, numerous athletes, actors, models, and pilots have sponsored these products over the years, making them among the most loved by connoisseurs.
Among the many models on offer, we would highlight Heritage , directly from the Monaco collection , which holds two world records as the first waterproof timepiece with a square case and as the first automatic chronograph. Definitely an excellent product for the "finest palates."
Cartier
For years, one of the points of reference for the best luxury watch brands, Cartier is still one of the most interesting solutions on the market.
The precious pieces that characterize the collections of this renowned company are perfectly suited to both male and female style, featuring absolutely inimitable taste and beauty.
It is no coincidence that Cartier is a veritable forerunner of wrist timepieces, as well as being one of the first to introduce the rectangular dial.
Among the myriad models available, it is impossible not to mention the Tank Solo , a symbolic product of the company.
To go into detail, this chronograph is made with a classic style, characterized by a light strap and Roman numeration which give it that extra touch that makes it ideal for any occasion.
Lange & Sohne
When speaking of the best brands of luxury chronographs , how could we not name A. Lange & Sohne ? Indeed, the company purports itself as one of the absolute best choices thanks to the passion and commitment evident in all its accomplishments.
The techniques applied in the development of every single watch are absolutely unique and guarantee, for years, models that fully reflect the trends and style of those who don't like to miss out on anything.
Lange & Sohne is the author of numerous collections and cutting-edge models, including the GRAND LINE 1 .
This beautiful wristlet chronograph presents a wonderfully simple and classic style, with a round dial and a harmonious composition.
The attention to detail – such as the choice to indicate the date at the top, and the creation of two small internal dials – leaves absolutely nothing to be desired and is a guarantee of an absolutely valid and quality product.
Piaget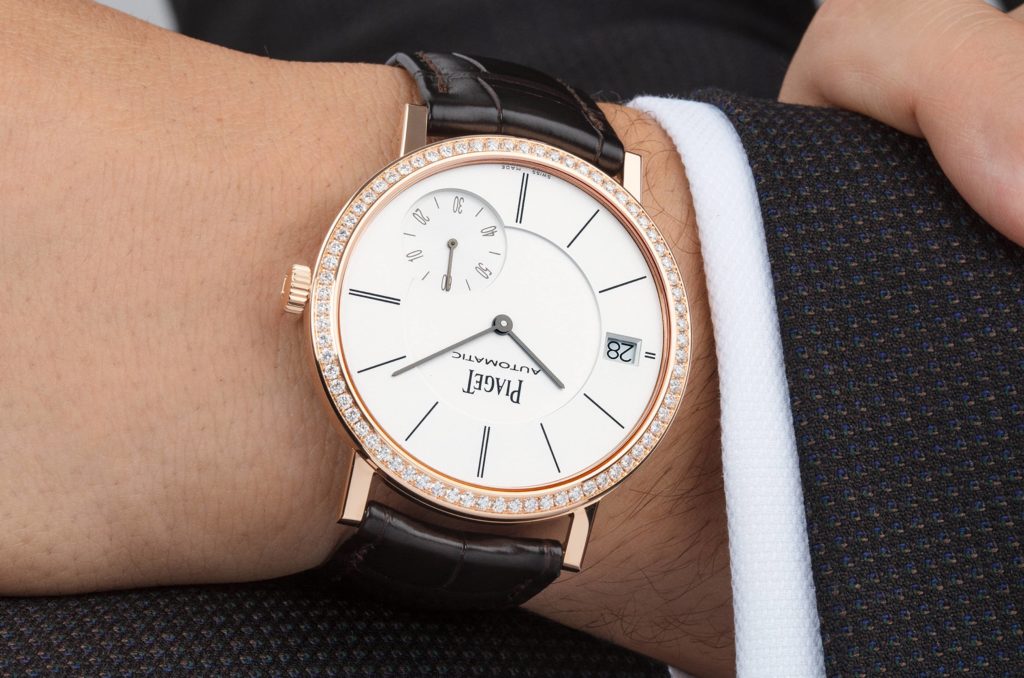 Piaget is a Swiss brand of luxury watches and also of jewelry dating back to 1874. It is a brand that excels both for men and women – in fact, the models which are surrounded by diamonds, precious stones, or gold are famous.
The brand is also the producer of its own watch movements. This makes it in all respects one of the most famous Swiss brands. Among the most appreciated movements are those in the ultra-thin models, and those with extra features such as a perpetual calendar or tourbillon.
There are several collections to choose from. The most popular are Altiplano, Limelight Gala (with spiral shapes), Polo, Possession, Black Tie, Emperador, and finally the high-end High Jewelry models.
Tudor
Tudor is, without any doubt, one of the best Swiss luxury watch brands.
Indeed, the products are designed and manufactured for true lovers of precision and impeccable style – which only this company can guarantee, and for years at that.
All the models have absolutely avant-garde features, made with the best materials and with a unique care and passion.
Among the most interesting models there are, undoubtedly, stands one of the latest releases: the Tudor Heritage Black Bay .
Indeed, this timepiece has a waterproof and extremely resistant structure made of yellow gold and steel.
Furthermore, the model is equipped with an additional fabric strap , allowing you to always be able to match it perfectly to your style.
Longines
Longines is another well-known company specializing in the production of luxury watches.
In fact, it has been operating in the sector since 1832 , when the first artisan laboratory was founded in Saint-Imier.
Its products are impeccably made and offer enthusiasts a wide range of solutions that are excellently adapted to the style and preferences of the individual.
In particular, the brand's classic, sporting, and leisure models are available in numerous variants.
Among the different models, the most appreciated are, without a doubt, those among the men's collection: The Longines Master Collection . They are made with precious, scratch-resistant sapphire glass and with the use of yellow or pink gold.
Considering the incredible performances that this type of wristwatch presents, the prices are quite interesting.
Chopard
Chopard presents itself as one of the most interesting solutions in terms of prestige chronographs .
The models are particularly cared for, and are made to be appreciated by a vast public of all ages and nationalities.
The strength of this company lies in the creation of female models in particular, as evidenced by a collaboration with the singer Rihanna .
Among the most interesting models, we find those of the Happy Diamonds Icons collection . Made in 18-karat pink gold, they are designed to be absolutely delicate and very aesthetically pleasing.
The color choices are quite interesting, with the optimal use of a wonderful rosé stone that is perfectly suited to the interior design of the product.
Among the best and most recommended solutions.
Bovet Fleurier
Bovet Fleurier or more commonly abbreviated to Bovet is a watch brand with a long history that began way back in 1822, the brand was born as a pocket watch manufacturer but over time it increasingly begins to stand out as a high-end brand, in fact its watches today they cost more than 15,000 dollars , and can even cost more than 2 million dollars .
This brand is not particularly characterized by watches that can be worn every day, in fact more than watches Bovet produces works of art intended more for collectors and lovers of the sector.
The collection is characterized by different models available, a peculiar feature of this brand are the frequent collaborations with leading companies in other sectors, with which to collaborate for the creation of particular and atypical timepieces, an example is the collaboration with Rolls Royce or Pininfarina for the creation of collections characterized by special watch models.
Among the other collections of the brand we mention Miss Audrey, Monsieur, Orbis, Virtuoso, Rècital.
Blancpain
Another interesting choice, Blancpain is, without a doubt, among the best brands of luxury watches. The design and style adopted by its models are absolutely unique and inimitable , with a charm worthy of high-class products.
The solutions it offers are the result of dedication and passion for this sector that have been ongoing for many years now.
Among the most popular models, we point out the Fifty Fathoms, the result of a reevaluation of one of its historical pieces from 1950 .
In particular, this underwater chronograph is characterized by a very solid structure and an attention to detail which – despite having been revisited in a modern key – contributes to this model's old-timey charm.
Franck Muller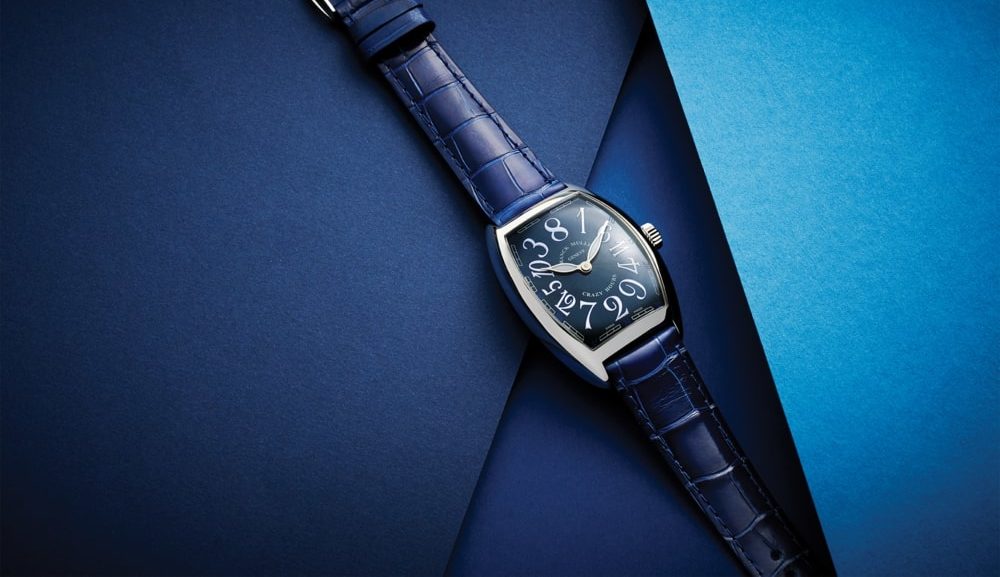 Expert hands and great passion have allowed Franck Muller to become one of the emblems in the prestigious watch sector, and absolutely one of its reference points.
Indeed, the avant-garde products and classic style of its collections gave birth to a series of precious and unforgettable models.
Among the men's models, we cannot fail to mention the 1350 T QP of the Long Island collection in particular, made by masters of the watchmaking art.
To go into detail, the rectangular dial is characterized by a very particular arrangement of the numbers which results in a very different and imaginative outcome.
The style combines classic and modern sensibilities in a wonderful combination of simultaneously aesthetically pleasing and completely revolutionary elements.
Glashutte Original
The history of Glashutte Original began more than 170 years ago with the foundation of its first factory. After some time, the company came to be known as a luxury watch brand – among the best known in the world. It offers a variety of models of the highest quality.
There are really a lot of solutions made available to enthusiasts, ones that fully respond to the needs and demands of the market.
Among the brand's leading and most well-known products, we recall the Senator Cosmopolite in particular, made entirely in white gold and absolutely waterproof.
The Roman numbers give it that extra touch, allowing us to identify this model as a product with a decidedly classic style, with soft harmonious lines and a truly exceptional attention to detail.
Dewitt
Dewitt is not the classic luxury watch brand, here we literally enter another world, in fact Dewitt can be considered a super-luxury watch brand, where every single watch in the collection is a work of art, they are watches that immediately impact show us their complexity, thanks to their dial with mechanisms in full view.
The costs of a Dewitt are high, starting from about 30,000 dollars up to millions of dollars for the most valuable pieces.
Although the brand does not have a long history, and only started in 2003, this brand has managed to carve out a niche in the market for fans not only of watches but of true works of art worn on one's wrist.
NOMOS Glashütte
NOMOS Glashütte is a German luxury watch brand that stands out for watches with an original and minimalist design. Founded in 1990, in a short time it has managed to expand and get good recognition from all lovers of luxury watches, thanks to the ability to include complex functions while maintaining an internal production of up to 90% of the components.
The price of these models varies according to the model you prefer, starting from models with a cost of just over 1200 dollars, up to the most expensive models that reach sums exceeding 10,000 dollars, as in the case of Lambda models.
There are many models available in the collection. Currently, there are about 13 collections among the most important are Tangente, Metro, Ahoi, Tetra, Club, Zurich, Tangomat, Autobahn, Lambda, and Orion.
Bell & Ross
Unlike many other luxury watch brands, Bell & Ross aims to offer products that are much more sporty and functional than others.
The quality of the models , in any case, is absolutely exceptional, with incredible attention to all the functions and details that fans are so fond of.
Among the brand's most interesting models, we point out the BR-03 92 Horograph , made of micro-blasted steel, with skeletal metal hands filled with Superluminova.
The style is much more attractive and sporty than other models, yet maintains that absolute beauty that has always characterized models of this company.
It is also interesting to note the price factor . Compared to similar products in the same category, this model is much cheaper and more convenient.
Girard Perregaux
The fine and delicate style of Girard Perregaux products is absolutely unmistakable and, since 1791 , has fascinated and attracted thousands of enthusiasts.
The models are mostly female-oriented, although there are also many solutions for men as well.
In any case, the class of this company's luxury watches coalesces into a point of reference that cannot be ignored for anything.
Among the best collections, we find Cat's Eye , and point out the Tourbillon With Gold Bridge model in particular. This model presents a decidedly refined style, suitable only for strong personalities.
The curves, the style, the design, and the composition are perfectly suited to the feminine soul, lending this product and unforgettable charm.
Strongly recommended to all women looking for a real jewel.
Maurice Lacroix
Maurice Lacroix models come in a decidedly different style than more "traditional" models.
Indeed, this luxury watch brand offers decidedly revolutionary solutions both in terms of style and design choices.
The various men's and women's collections also offer a wide range of products that really suit all needs and preferences.
Among the best models, we point out the Masterpiece Gravity , a perfect practical representation of what has been said so far.
The design's lack of order and incredible unpredictability imbue this model with a completely original style that promises to adapt itself fully to the different facets of the human soul.
Chronoswiss
Chronoswiss is perhaps one of the best known Swiss luxury watch brands. Much of this fame is due, without a doubt, to the incredible quality of its products and the attention to detail that has always characterized this company.
The style is predominantly classic, exhibiting a predilection for men's models that are precise and reliable in every occasion.
Among the brand's leading products and the most chosen by lovers of luxury chronographs, we find the CH-8423 of the Sirius collection , characterized by the very large date and a small dial measuring the seconds located separately.
The style is absolutely classic, recalling timeless models that never lose their charm and beauty.
Ideal for any event, especially for receptions or important occasions.
Montblanc
Montblanc is a very recognized brand for its history in the field of accessories such as fountain pens that, over time, have made the brand famous all over the world, but since 1997 the brand has also started producing luxury watches, initially with ETA movements and later with in-house movements.
To date, the brand produces movements with all kinds of complications from the rattrapante chronograph to the moon phases, making the brand in all respects a highly respected luxury watch brand.
Among its most iconic models are the Montblanc Villeret models with an elegant style, the Montblanc 1858 models that are reserved for hiking lovers, and for all the nostalgic, there are the Heritage models with a vintage style.
Other interesting collections are Star Legacy, Tradition, TimeWalker, Bohème, and Summit 2.
Bulgari
Bulgari is a brand that needs no introduction. In addition to being one of the most important in the fashion scene, it is also distinguished by its range of luxury watches of superior value.
Initially, it featured externally manufactured movements, such as those of the Zenith, and the brand subsequently opened a development center in Switzerland for the creation of its in-house movements. One of the most interesting of these is the Octo Finissimo Tourbillon with a thickness of less than 2mm.
There are many materials from which the timepieces of this brand are made, such as stainless steel, gold, ceramic and titanium.
Among its most renowned collections are Bvlgari Bvlgari dress watches, the Gerald Genta collection born from the collaboration with that designer, and finally the most iconic Octo ultra-thin models with an octagonal case.
Louis Vuitton
Louis Vuitton is a brand that you will surely have heard at least once in your life, today it is considered one of the most coveted brands when it comes to fashion and luxury items, but maybe you don't know that this brand also offers a collection of watches for everything respect, with really interesting features.
The brand offers different collections such as  Tambour,  a collection characterized by models with a contemporary design with a round case and large dials with  the brand's V  emblem in full view.
Another interesting model is the  Louis Vuitton Tambour Monogram,  which is characterized by the dial with the classic monogram that can be seen on the brand's products.
In addition to the classic wristwatches,  Louis Vuitton  also offers "table" models called  Trunks , watches characterized by a box with dials set inside them characterized by sumptuous and flashy lines.
All models are  made in Swiss , produced by expert craftsmen of fine watchmaking which make them luxury watches of great quality to all intents and purposes, as evidenced by the average price of a watch, which varies between $ 4,000 and $ 20,000 .
Bremont
Bremont is an English luxury watch brand with a long history in the world of aviator watches, thanks to the knowledge in this field of the two founding brothers Nick and Giles English.
So far, this brand has been recognized as a niche brand with a limited number of pieces produced every year – around 10,000 – but starting in 2021, it has initiated large investments to expand the production and status of the brand.
Among its most interesting models are the retro style HAWKING series, JAGUAR for motor enthusiasts, and ONLY for aviator watch enthusiasts.
Baume & Mercier
Baume & Mercier is a luxury watch brand with a long history, which began in 1830 and which will acquire more and more fame, thanks to their acquisition of Richmont, which serves to make the brand even more global.
The best-selling and most popular models are the Riviera models with a cost of around 2000–4000 dollars.
Another interesting collection is the Classima with an elegant and classic style ideal to be worn with evening dresses.
Rado
Rado is a Swiss brand of medium-high-end watches. They are characterized by an unmistakable style as well as the use of innovative materials such as carbon and ceramic for the case and strap.
When looking for a watch that is distinguishable from the crowd, Rado is definitely a brand to consider, as is the case with the Integral and Centrix models.
The catalog has a very varied number of models, with watches for both men and women as in the case of the Florence collection, characterized by clean lines and small diameter cases.
Roger Dubuis
Roger Dubuis is a Haute Horlogerie brand intended for all those looking for a watch out of the ordinary, and with a limited number of pieces, it is one of the few brands that receives the Geneva Seal of recognition on each model produced.
The brand was born in 1995 but in a short time, it managed to be appreciated by the demanding public, to the point of being acquired by Richemont, one of the largest companies that deals with expensive accessories.
Among their most iconic models are EXCALIBUR, EXCALIBUR SPIDER, HYPER WATCHES, KNIGHTS OF THE ROUND TABLE, and VELVET.
Prices start from the "basic" models with a cost of 27,000 dollars as in the case of the VELVET WHITE GOLD 36MM model, reference RDDBVE0070, while among the most expensive, there are VELVET PLATINIUM 38MM with reference RDDBVE0019.
F.P. Journe
F.P. Journe is a luxury watch brand reserved for a few, known both for the average cost of its models but above all for the limited production, so it is reserved only for a certain target of people.
They produce their works of art in Geneva in Switzerland, one of the cornerstones of luxury watchmaking. Today, this brand is owned by Chanel, a very recognized fashion brand, with the aim of increasing its coat of arms even more.
The top models are found in collections such as: Chronometre à Resonance, Octa, Souveraine, and Vagabondage II.
Arnold & Son
In the distant 1764, the Maison Arnold & Son brand was born, founded by the famous watchmaker of the time John Arnold. The brand has English origins but produces its movements in Switzerland, like all the respected luxury watch brands.
Immediately when you look at an Arnold & Son watch, you can see an unmistakable style with skeletonized dials, as in the NEBULA models, or characterized by many complications such as moon phases being clearly visible, as in the case of the PERPETUAL MOON collection.
Among the most striking examples that have characterized the attention of the public are MÉTIERS D'ARTS and GLOBETROTTER – both authentic works of art.
Parmigiani Fleurier
Parmigiani Fleurier is a high-end watch brand with a manual production of every single model made. This brand, founded in 1996, jumped to the headlines when in 2006 it showed the world one of its best works, the Bugatti 370,a timepiece with truly out-of-the-ordinary style and technical characteristics, created in collaboration with the Bugatti car brand.
The brand produces each year a limited number of models, in such a way as to make the brand very exclusive and reserved only for a small number of people, making its models an excellent long-term investment.
Among their most popular collections are Kalpa, Tonda, and Toric.
Hamilton
Hamilton watches   have a double soul, the first is that relating to its Swiss-made movements, while the design and their production is made in the USA, we can therefore say that Hamilton is an American watch brand.
The brand has a long history that began in 1892, today its most popular watches are the Khaki, divided in turn into Khaki Field , Khaki Aviation, Khaki Navy.
The Hamilton watch catalog is very extensive with dozens of different models thus allowing a wide choice based on your style, from aviator models to classic ones.
This brand is ideal for those looking for a middle ground between a standard watch and a luxury watch, in fact many models can be purchased starting from 500 dollars for the basic models up to the more complex ones such as the GMT chronographs with costs of 2000- $ 3,000 .
Oris
Oris is a brand that has been producing Swiss watches with an excellent quality / price ratio for more than 100 years. Those who prefer watches with a sporty design must not forget their pilot or diving models, such as the Aquis collection.
The brand has been producing in-house calibers since 2014, making Oris one of the most important brands in the watchmaking scene.
The collection it offers is mainly divided into 3 series: Aquis for all lovers of sports watches and divers, Aviator which, as you can guess from the name, are intended for fans of pilots' watches, and finally the Cultura collection, which combines history with a touch of modernity.
Louis Moinet
Louis Moinet is a brand that has a very different history from all the others. This is particularly due to the great life story of its creator, namely Louis Moinet. He was not only a great watchmaker who created works for Napoleon Bonaparte, Thomas Jefferson and James Monroe, but also a great thinker and painter.
Today, the brand continues the vision and art of its founder, with watches with very complex calibers and very eye-catching designs.
An example are the Cosmic Art and Mechanical Wonders collections, characterized by complications such as tourbillons. In the former collection, we find watches that represent space, with some models characterized by the presence of meteorite stones inside them, while the latter collection instead has a more terrestrial appeal, with some models such as the T-REX TOURBILLON, characterized by the presence of dinosaur teeth inside them.
Corum
In 1955, the Corum brand was founded. They are among the most interesting of the expensive watches, with a design that distinguishes them and makes them easily recognizable. The most expensive models are made of gold, with a price ranging between 1000 dollars and 300,000 dollars for the models of a more precious and limited edition.
The catalog is characterized by different collections, starting with the Golden Bridge movements which are recognizable on sight and have both round and rectangular case shapes. Admiral is characterized by the particular shape of the dodecahedron case that is 12 sides, and finally, we have three other collections which are Lab, Heritage, and Bubble.
Corum offers models for both men and women and with their unmistakable design and their varied price, they are a great option to consider if you are looking for a watch with a particular design.
Grand Seiko
Grand Seiko could be seen as a sub-brand of Seiko but in reality, it is a Haute Horlogerie category of models, with technical characteristics that have nothing to envy from a Rolex, but with a relatively lower cost.
The catalog is mainly divided into four collections intended for enthusiasts with different styles, starting with the Masterpiece collection, an example of advanced technology, Elegance with models with leather straps, Heritage with references to past styles, and finally Sport, characterized by being the most commercial, and suitable for daily use or in sports activities.
Costs range from the most expensive with a cost of 10,000 dollars to the cheapest starting from a few thousand dollars. This is a Japanese brand to be definitely considered among the luxury watches with the best quality / price ratio.
Alpine
Alpina is a classic brand when it comes to Swiss watches, this brand has a long history that began in 1883, for more than a century it has been offering really interesting watches, especially for their price range, with models that on average can be purchased at a average price of 1000-2000 euros.
Among its most interesting collections we can find the most classic and recognized  Alpiner , which as you can guess from the name is dedicated to all mountain enthusiasts with valid tools such as the compass.
Another collection to consider are the  Startimers , models for aviation watch enthusiasts, to arrive at the diving models identified by the  Seastrong collection.
This brand has shown that it knows how to adapt to new fashions and generational changes, an example of which is the smartwatch collection that combines classic mechanical watches with digital technology useful for being connected with the most popular smart applications at the moment.
Junghans
junghansp is a brand of wristwatches of German origin founded in 1861, this brand produces watches that are easily distinguishable from the crowd thanks to a very sober design at first glance, in general the top models have large circular dials, with hands very thinned that give it a classic and refined style at the same time.
Many of the models are equipped with an automatic mechanical movement, with various additional complications such as stopwatch or date of the week or month.
Another feature of this brand is their thickness, very often less than 10mm, making it really comfortable on the wrist once worn.
The not too high prices make it an excellent watch for those who want a quality watch without spending too much.
The most representative collections are Max Bill, Form, Pilot, Driver, Meister.
Sinn
Another very interesting luxury watch brand, Sinn specializes in the production of cutting-edge products suitable for all possible needs.
Indeed, the wrist chronograph models it offers are really interesting and have unique characteristics for their kind .
Sinn specifically proposes solutions suitable for both men and women, providing a really wide variety and choice.
Among the best models, we opted for the wonderful 103 St , a product that appears to be very simple but that – in reality – presents an absolutely meticulous attention to detail.
The case is made of very resistant stainless steel, while the scratch-resistant pure sapphire glass adds an absolutely essential touch.
An excellent choice from all points of view, with an absolutely attractive price in spite of the many services offered.
Frederique Constant
Frederique Constant is a luxury watch brand with an affordable price range, even for those who don't have big bucks to shell out. Many models cost just over 1000 dollars, making it a great deal if you are looking for a middle ground between cheap and expensive.
Their broad style ranges from classic models showing indications with Roman numerals, to more sporty ones, such as the HIGHLIFE model with a truly successful design.
The brand also wanted to keep up with the times by creating the Smartwatch collection, which are hybrid models that are no longer mechanical but have electronic movements, while maintaining the style of a Swiss watch.
MasterSinger
MeisterSinger is a watch brand created by Manfred Brassler which stands out for its peculiar characteristic, in fact this brand produces wrist watches with a single hand, exactly like the first real watches, this feature combined with the quality of the Swiss made movements and the design elaborately made in germany allows this brand to carve out a slice of the market for those looking for watches that stand out from the crowd.
The design is classic thanks to a circular case and a hand with marked dimensions, this makes it easily readable even at a glance.
Among the models in the catalog we can find both watches with leather straps of different colors, and in steel for the  Unomat models.
Prices vary between 1000 and 2000 dollars based on the complexity of the functions present, such as chronograph, GMT or various daters.
The importance of choosing the right model
As we have seen, there are numerous luxury watch brands , which have distinguished themselves over the years for their quality and ever-exceptional products.
Precisely for this reason, there is a wide variety of models on the market which respond, in one way or another, to precise consumer needs.
Indeed, every single person identifies themselves in a precise model, as they find in it a perfect representation of their characteristics, style, and character.
Furthermore, the circumstances in which a certain luxury watch is worn also play an important role in making the right choice.
Indeed, each product adapts to different occasions, allowing lovers of class and good taste to be able to vary between options and choose the perfect accessory for every circumstance.
The wristwatch represents, in this sense, one of the most characteristic elements that – for men and women both – can really make the difference in terms of style and charm.