If you are a lover of wristwatches, then you will no doubt know that Rolex models are among the most coveted on the market. Indeed, in the collective imagination, this brand is associated with high-sounding qualities such as beauty, refinement and elegance.
Perhaps you think it is impossible for you to acquire a Rolex, since such watches have a very high cost (see complete Rolex price list). If you don't have a large budget, maybe you think it might be really difficult to buy a Rolex. 
However, you don't have to worry, because you can always try to buy the cheapest Rolex watches on the market. But remember that when talking about the watches of such a historic brand in this sector, created about a century ago, you must always take the word "cheap" in a certain context. We are talking about luxury and high-class watches, with exceptional characteristics and breathtaking designs. 
But which is the cheapest Rolex in circulation and why should you absolutely buy it if you are a fan? Read on and find out everything you need to know about your best options!
The Cheapest Rolex  – Rolex Oyster Perpetual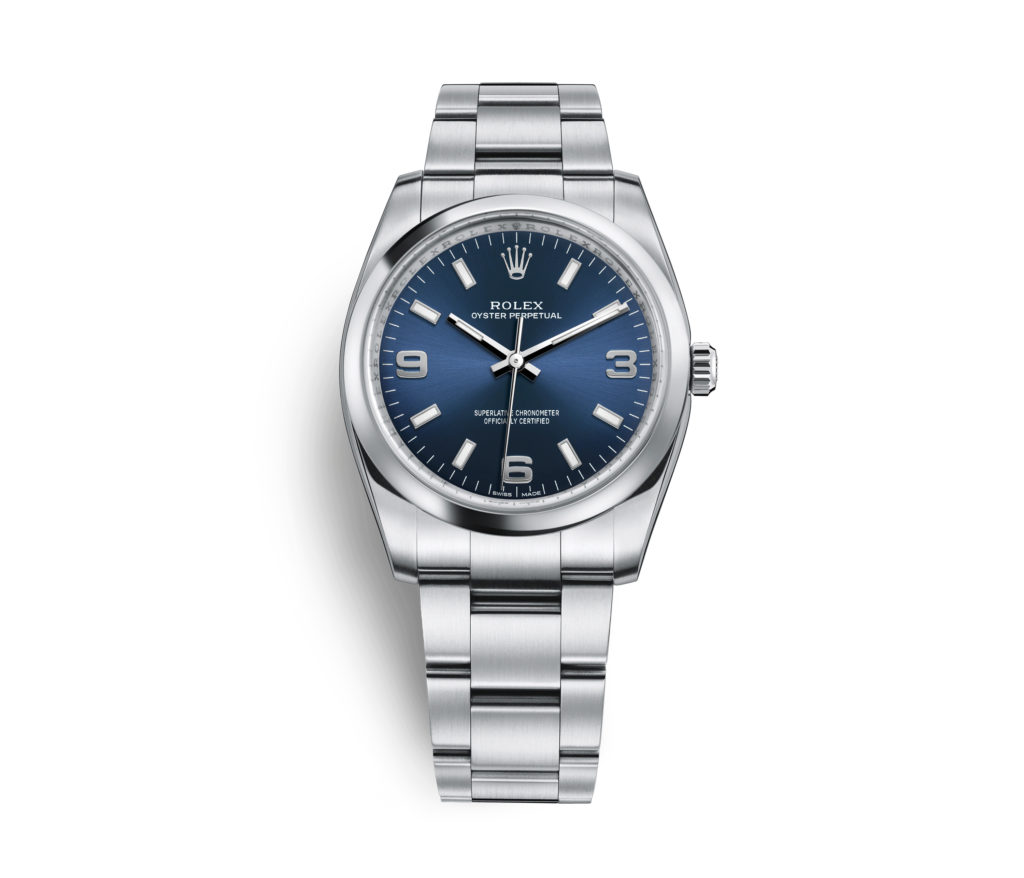 The least expensive Rolex on the market is the model Rolex Oyster Perpetual 34 with reference 114200. The cost is around 5,100 dollars.
But perhaps you're thinking this is a poor timepiece and with unenviable characteristics? On the contrary, you will immediately notice that this wristwatch is of very high class, and exceptional in many respects. 
The watch has a classic design, with colors that blend together in an amazing mix, capable of lighting up the eyes of anyone who loves luxury and class. The dial is round and blue in color, with silver indexes and numbers that decorate it in an amazing way. However, this model is also available in other colors with a dial that can be chosen in purple, golden, white, green or black. 
The bracelet and case are made with a special material, called Oystersteel steel, which is durable and long-lasting. This steel allows the timepiece to retain total protection against accidental knocks or hard impacts. In addition, this fabulous accessory is water-resistant to a total of 330 feet deep and has an anti-scratch sapphire crystal.
The movement of the watch is mechanical with automatic winding that lasts up to a maximum of 48 hours. The caseback of the Rolex Oyster Perpetual is screw-down, as is the crown, while the case diameter reaches 34 millimeters. 
Other Cheap Rolex Watches
In addition to the classic Rolex Oyster Perpetual, you can opt for models with a higher cost. At the same time, these are still to be considered a low cost for what you get. So if you do not prefer the Rolex Oyster Perpetual, you can opt for one of the following models:
Rolex Datejust
The Rolex Datejust is a model available for both men and women, and is practical and beautiful to look at. The male Date 34 model costs 6,500 dollars while the female Date 31 model costs 6,400 dollars.
Despite some differences in style, the two watches have almost identical technical characteristics and are of the highest quality in every detail.


The men's timepiece with reference 115200 has a round, white dial with silvered indexes that are easy to read at all times. On the other hand, the female model, reference 178240, has a pink dial. Both are refined thanks to the Roman numerals present everywhere except at 12 o'clock, where the Rolex symbol stands majestically. 
Both watches work with a mechanical movement, have a case and strap made of Oyersteel, a date window at 3 o'clock that shows the days of the week and a screw-down caseback. For both him and her, this is a special accessory, to be included in your collection. 
Rolex Air-King
The cheaper Rolex Air-King is a breathtaking model, capable of adding a large dose of elegance and refinement to your image, at a cost of 6,450 dollars.
This timepiece has a 40 mm diameter case, entirely made with Oystersteel, an incredibly resistant material. 
The silver-colored bracelet is also made of this material and can be adjusted comfortably and practically thanks to an Oysterclasp folding clasp and EasyLink quick extension link of about 5 millimeters. 
The movement of the Rolex Air-King with reference 116900 is mechanical with automatic winding, but it is interesting to note that the watch has an extremely efficient paramagnetic protection system. The watch can also be used in water, being waterproof up to 330 feet. 
Rolex Explorer
The Rolex Explorer model produced by the Swiss brand is a real jewel to wear on the wrist, for refined occasions and beyond. It is the least expensive Rolex in its collection, with a price of 6,550 dollars.
The elegance of this model is ensured thanks to the round black dial, characterized by silver-colored hands, indexes, and numbers. 
The numbers 3, 6, and 9 are very beautiful to look at, made of Chromalight, and capable of being luminescent and highly visible. The Rolex Explorer with reference 214270 has a fantastic second stop function that allows you to precisely adjust it. 
The movement is mechanical, self-winding, and capable of lasting up to 48 hours. The accessory is very resistant thanks to a solid sapphire crystal and a robust Oystersteel design. 
Rolex Submariner
The Rolex Submariner 114060 men's wristwatch is one of the cheapest models. It has numerous features capable of captivating anyone who sets their eyes on its design. This watch can be purchased for 7,900 dollars.
This wonderful watch has a silver structure made of Oystersteel, an extremely resistant material. 
The round dial is black in color, creates a fabulous visual contrast and is surrounded by a revolving and unidirectional black bezel, made of Cerachrom, with numbers and graduations in platinum. The dial is perfectly protected by a sapphire crystal that is impossible to scratch. 
The Rolex Submariner can also be used for professional scuba diving, since it is able to withstand up to 1000 feet of depth underwater. 
Rolex Milgauss
The Rolex Milgauss with reference 116400GV is an exceptional model from many points of view. This absolute jewel can be purchased at a price of 8,300 dollars, an advantageous value if you evaluate the quality / price ratio of the model.
What is striking from the first moment of seeing this timepiece is the Z-blue dial, decorated with fantastic hour markers that glow in the dark. Around the bright green round dial there is also a sapphire crystal, capable of leaving you speechless. 
The movement of this wristwatch is mechanical, with a bidirectional automatic winding system using a Perpetual rotor. In addition, the model can last about 48 hours. The bracelet is in Oystersteel and can be adjusted with a practical Oysterclasp clasp. The diameter of the case, also made of Oystersteel, is 40 millimeters. 
Cheaper Men's Rolex
The cheapest men's Rolex is the Rolex Oyster Perpetual 34 model, which can be identified by the reference code 114200. The cost of this timepiece is really reduced, compared to the other models in the collection, since the sale price is 5,100 dollars.
This wristwatch has a fantastic round dial, decorated with silver-colored numbers and hour markers. In addition, all the elements on the dial are treated in detail and demonstrate exceptional elegance and refinement – very much the trademark of the Swiss brand. Note also the domed bezel of the cheapest Rolex for men, a detail that does not go unnoticed. 
This timepiece can be worn practically anywhere, since its features make it suitable for multiple circumstances. In water, for example, the watch is able to withstand depths of up to 330 feet and the Oystersteel case protects the model from knocks and damage. The movement of the watch is mechanical, with automatic winding and able to last 48 hours. 
Cheaper Women's Rolex
The cheapest women's Rolex costs just 4,850 dollars and is the Rolex Oyster Perpetual 26 with reference 176200.
This wristwatch has an elegant and attractive design, which perfectly matches the needs of a high-class woman. 
The metallic dial of this watch is round, of a pure silver color, and extremely beautiful to look at. The dial is protected by a sturdy sapphire crystal, which is impossible to scratch. At the same time, the protection of the wristwatch is ensured by the 26 mm diameter Oystersteel case. 
The bracelet of this timepiece is made of Oystersteel and is extremely easy to adjust since it has a practical and handy Oysterclasp closure. The winding crown has a fantastic double waterproofing system called Twinlock, which is also highly notable. 
Cheaper Rolex – Used Watches
Instead of buying a new, more expensive Rolex, you can often meet success by trying to buy a used, cheap Rolex.
Which used Rolex models can you buy without spending a lot from an economic point of view?
Well, a first option could be the Rolex Oyster Perpetual 1002, available at a cost of 1,750 dollars.

It is a model with sensational features, with a round dial decorated with stylized indexes and a 34mm diameter case.

In addition, the steel structure makes this model resistant and long-lasting. 

Another of the cheaper used Rolex watches that can be found on the market is the Rolex Date 1501 model, which you can buy for 1,700 dollars.

This wristwatch has a round dial with Roman numerals and a fabulous date at 3 o'clock. This Rolex works with automatic movement and can be tied to the wrist using an Oysterclasp clasp. 

Finally, for fans who love vintage, there is the Rolex Vintage Datejust Two Tone 1601 model, available at a price of around 2000 dollars.

This timepiece has a colored bracelet with two different shades, golden and beige, which blend together and create a spectacular visual mix.

This model is a choice that cannot be missed from the collection of a passionate collector of the Swiss brand. 
Where to Buy Your Rolex
At this point, you may wonder where you can buy the least expensive Rolex on the market. In fact, you must pay particular attention before proceeding with your purchase, as you may come across counterfeit or unoriginal models. To avoid such problems, always choose an authorized Rolex dealer. These are easily recognizable thanks to the certifications and feedback of past customers. On the official Rolex website below, you can find authorized dealers:
List of authorized Rolex dealers
Alternatively, you can use our partnership service, which allows you to get in touch with an authorized dealer but with better conditions and prices. If you want to get more information about this service, you can visit the page of our website dedicated to Rolex models.
Through this section, you can find all the models of the historic high-class brand and immediately see which are the best watches of the brand – and above all, which are the cheapest Rolex models in circulation. 
Final Thoughts
If you choose the least expensive Rolex of a certain collection, you can finally fulfill your dream of securing a fantastic Rolex wristwatch. As you have been able to see, alternatively you can focus on a used model, perhaps with a vintage style, which will be able to charm you from the first moment you put it on. 
If you are still undecided about which Rolex to buy, don't worry. Simply contact us immediately. Thanks to our experience in the sector, we can recommend an affordable model that will fully satisfy your needs. We will be happy to provide you with our help and we are sure that in this way, you will be able to obtain a wristwatch that is beautiful to look at, functional, and remains a fantastic luxury.